We gobble-wobbled with turkeys, took delicious harvest meals to the field, picked bright orange pumpkins straight from the patch, and became beekeepers all along the FarmHer trail this season. We're taking you behind the scenes with our TV crew to show you their Midwest adventures. Here is an inside look at what's to come in Season Six!
Amber Rutledge- Wild Harvest Honey Farm
Beekeeping has been a part of Amber's heritage for over 100 years. And her family's goal is to education the importance of bees for our survival.
Did you know one in every three bites of food depends on bees for pollination? That is why Amber has made it her personal mission to help her community repopulate and save the bees.
At Wild Harvest Honey Far, Amber turned the land we grew up on and what has been in her family for three generations and worked on by five generations into a bee sanctuary. As the sole worker on her farm, she also hosts several events to educate people on the importance of bees.
Stephanie Stade-Townsend– Stade's Farm & Market
Located in scenic McHenry County in the midwest, Stade's Farm & Market is approximately 50 miles northwest of Chicago, Illinois.
FarmHer Stephanie Stade-Townsend produces 2,200 acres of corn, soybeans, and fresh fruits and vegetables and sells them directly to consumers through their farm market. Stephanie is currently pregnant with her first child and runs the farm market, farmtractions theme park and the u-pick portions of the operations.
Annaliese Wegner- ModFarmChick
On Instagram with 56,000 followers, Annaliese is Wisconsin girl, dairy farmer, twin mom and wife. A real modern-day FarmHer and mother sharing her everyday farm life on social media, she is the modfarmchick.
She enjoys cooking, eating, drinking, laughing and hosting. And shares her farm life to showcase the beauty behind the lifestyle.
Fun fact: we witnessed a live birth while visiting her farm. A FarmHer first!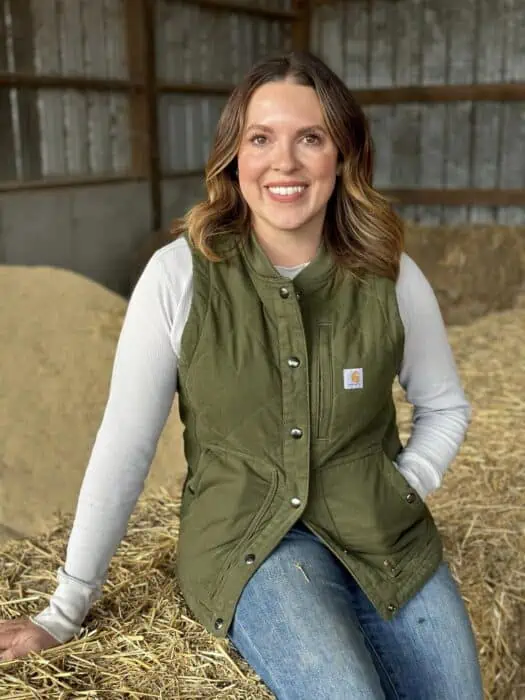 Mary Pat Sass- Sass Farms
On Instagram with 108K followers, Mary Pat is a midwestern farm wife and mom from Northern Illinois. Four years ago, she decided to leave her corporate career in agriculture technology to be home with her child and more involved on their family farm.
What she thought was her dream job turned out to be the one thing keeping her from living her dream life.
Now, she works to inspire others to find their passions through sharing her own experiences. She's started her own business, while raising two kiddos and fulfilling the role of "farm wife". She shares the beauty of her everyday life and gives a behind the scenes look on the farm.
Erica Sawatzke- Oakdale Farm
In the heart of the midwest, Oakdale Farm is located in west central Minnesota. Turkey FarmHer Erica Sawatzke is a sixth generation women in agriculture. Erica farms alongside her father and husband, although her husband also teaches high school agriculture making her the primary farmer at their operation. They grow corn and soybeans, and raise light hens.
Stay tuned and follow us as the RFD-TV crew continues to film for new episodes Spring 2024.